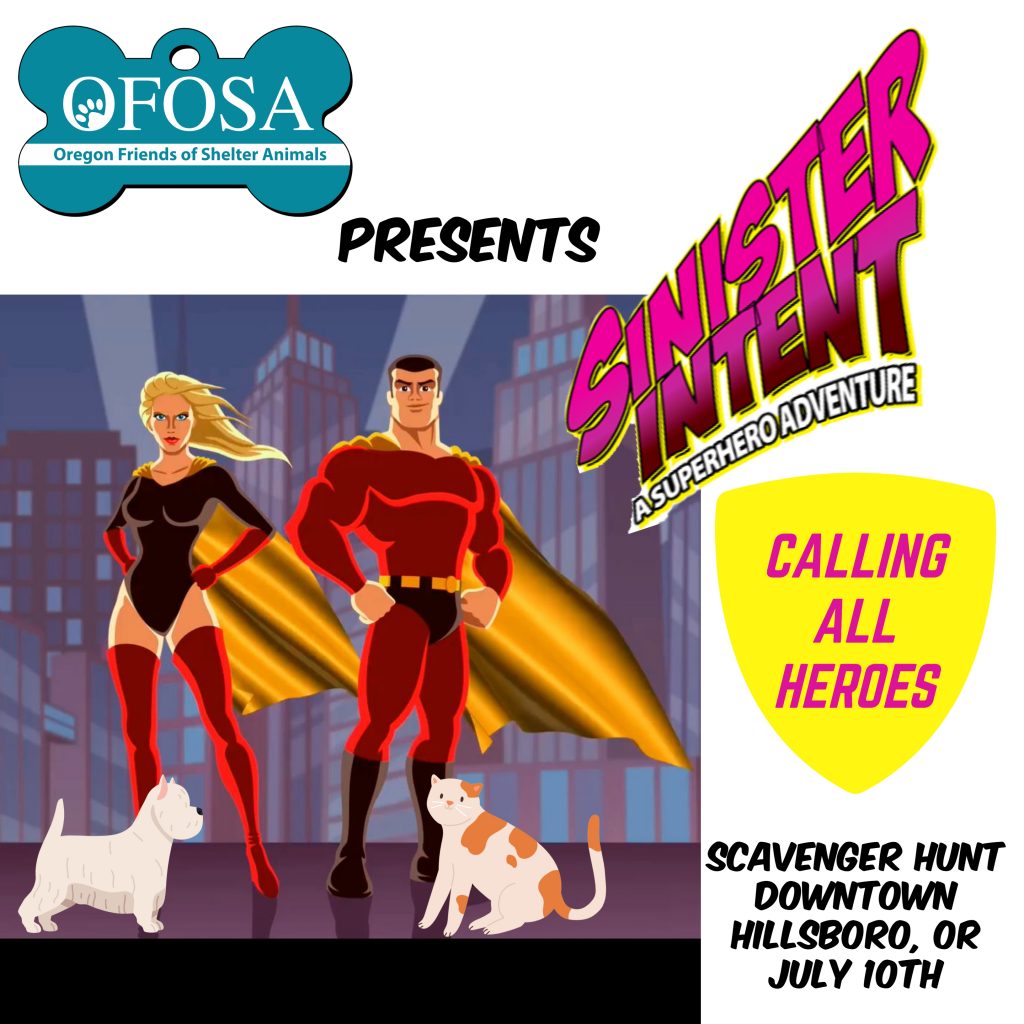 Hello Hero! We'd like to invite you to show off your superpowers by joining our Super Hero Scavenger Hunt for the Animals this summer! You can help save the free world AND homeless animals!
Our Downtown Hillsboro event is part scavenger hunt, part escape room, and part mystery adventure. Form a supreme team with your friends, family, and/or coworkers as you help save the planet on this high-tech, citywide scavenger hunt.
Designed as a socially distanced*, outdoor experience, the Super Hero Scavenger Hunt will guide you through downtown Hillsboro as you uncover secrets from famous figures in history and solve puzzles to defeat the supervillains. All you need to participate is a smartphone, a sense of adventure, and a willingness to discover your inner hero–though costumes are highly encouraged!
The free world and homeless animals are counting on you and your team!
Grab up to five of your super hero friends, and get hunting in Hillsboro. Tickets are on sale NOW. Grab one before they're all gone. One ticket ($70 + $2.75 handling) is good for your team of up to 6 people!
Saturday, July 10th, 10am – 4pm in Downtown Hillsboro*.
And, if you own or run a community-minded business and would like a fun, cause-related marketing opportunity, we'd love to have you join us as a sponsor to make this event a huge success! You'll get some great exposure and help save homeless animals!! Several levels of sponsorships available! Please email anne@ofosa.org and let her know you're interested in learning more!
*COVID-19 Information:
The Superhero Scavenger Hunt includes the following COVID-19 safeguards:
· Flexible three-hour start window from 10:00 AM to 1:00 PM
· Freedom to choose your route and navigate challenges in any order.
· Outdoor locations large enough for social distancing
· Face coverings encouraged in public.