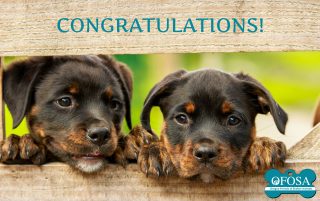 Congratulations on your new furry family member and thank you for adopting!
Below are documents and links that you might find helpful on your new journey as a Rescue Dog Owner! Just click on the title you'd like to check out!
Congratulations on Your Newly Adopted Dog!
How to Prevent the Great Escape!
Join OFOSA's Hero Club and help save more animals!
If a medical issue comes up in the first fourteen days after adoption, PLEASE CALL before you take your dog to a veterinarian.
Emergency & After Hours: 503-502-9526 or 503-747-7818
We have a NO REFUND policy. You may surrender your pet for a $100 surrender fee. We can also give you a donation letter for the adoption fee amount or we may consider exchanging for another pet. This is determined on a case-by-case basis.