And the winner is:
Greg Swett! Congratulations to Greg and to everyone who purchased tickets! You are all winners to us!
LIVE drawing is 1/12/23 at 2:00 pm from OFOSA offices in Hillsboro! Be sure to watch to see if you won! Winner will be notified by email and announced here on this page and our social channels.
Win a 2 Night Stay at this Beautiful Pet Friendly Mountain Retreat in Mt. Hood Village for up to 12 people!*
Approximate Value of $1,000!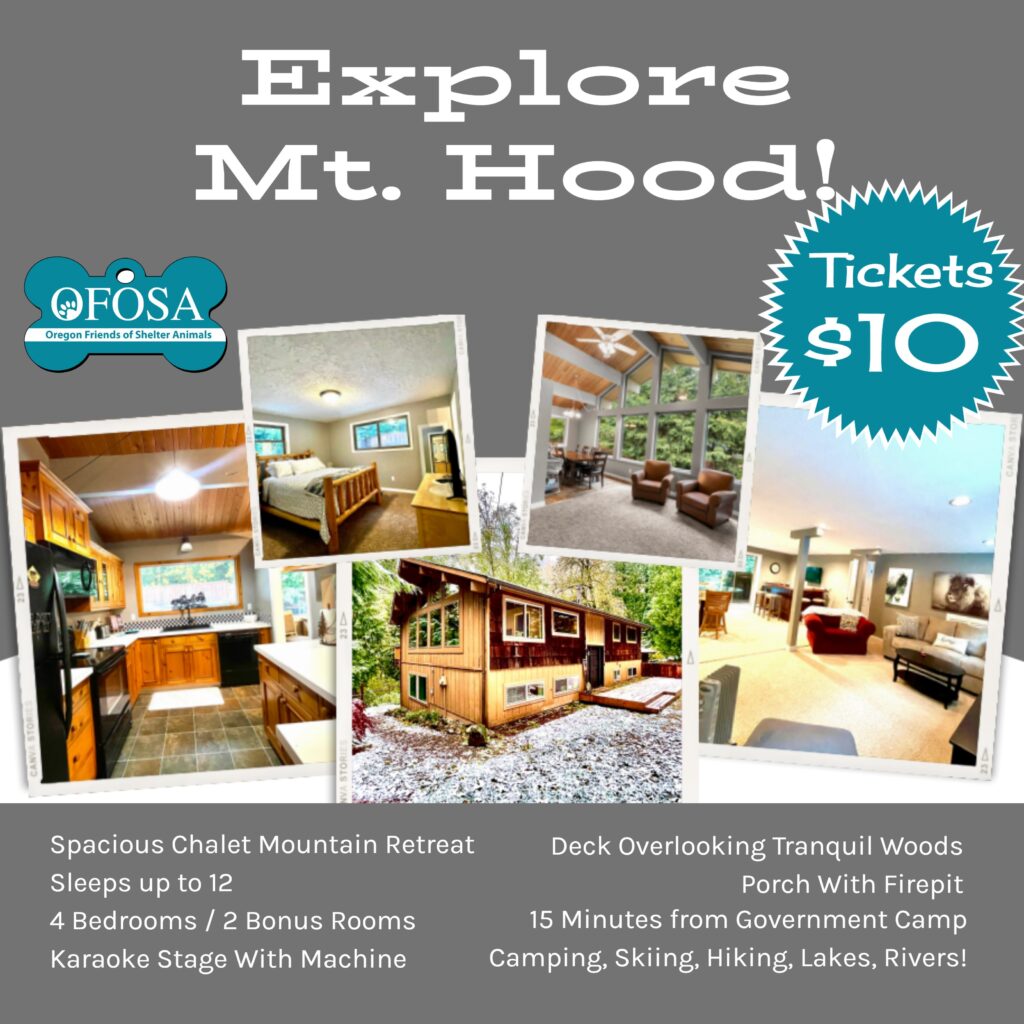 Grab your ticket(s) today for a chance to win 2 free nights* at this pet friendly mountain retreat while helping OFOSA save more animals!
Tickets sold are limited to just 600 at $10 each. Increase your odds of winning when you buy multiple tickets.
If you are 18 years old or older and are currently in the state of Oregon, you can buy your raffle tickets online through 1/10/23 at 11:59pm.


If you are not in Oregon, please wait to purchase your ticket(s) until you are in Oregon.
The winning ticket will be randomly drawn on Thursday 1/12/23 at 2:00 pm via Live Feed on OFOSA's Facebook page at our offices at 1853 NE Cornell Rd., Unit C, Hillsboro, OR. Winners will also be posted on our website.
Raffle tickets are available to purchase now through January 10th at 11:59pm. Proceeds go toward saving more homeless adoptable animals, restoring them to health, and finding them forever, loving homes! Thank You!
If you have any questions or problems with purchasing tickets, please call 503-707-5177.
Click HERE for Official Rules
Many thanks to Chantelle Hodson for donating this fabulous raffle prize. If you'd like to book your stay at this beautiful home, please go HERE.
*Booking this home will be based on availability.