Madeline always wanted one more pet.
Her collection included three dogs, three cats, two crested geckos, two ferrets, two fish, and a snake! She also helped build a wonderful chicken coop for our four "first ladies".  Left to her own devices, she'd have collected many more critters and always wanted some ducks, a goat, a cow, a tegu…
Madeline developed a vast knowledge of animals, particularly dogs, and became an expert on their character, care and feeding.  She loved to share her knowledge with anyone who would listen.  In her job as a dog groomer, she gave many shelter dogs and newly adopted pets the extra attention they needed to be happy and comfortable in their new situations.  As a volunteer for OFOSA she helped care for animals and assisted at adoption events.  She loved helping families find just the right pet to offer a forever home.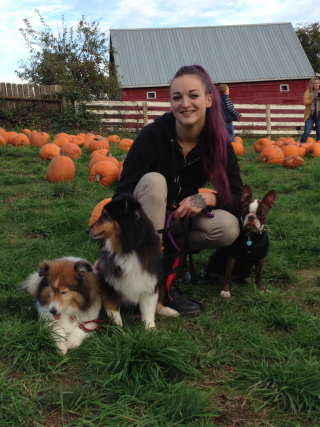 Please help us honor Madeline's love and passion for pets by helping OFOSA in their mission.  We know that Madeline would be humbled by the help given to animals in her memory.
If your employer offers a charitable matching program, that's a great way to double the impact of your gift.
Always in our hearts, but living on through the love of animals and our memories of you.
~ Madeline Duncan Family