Win CASH, GAS, OR GROCERIES and help save shelter animals!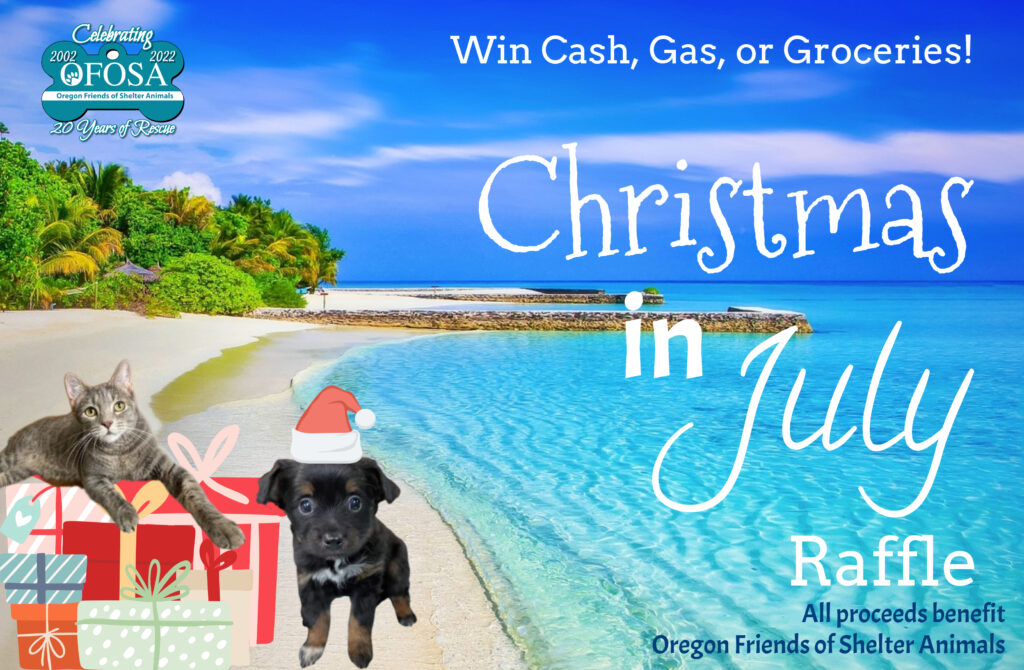 Many thanks to everyone who purchased tickets for our raffle!
The winners from our drawing today at 2pm are:
3rd place – $250 WalMart Gift Card – Steve Switaj
2nd place – $500 Gas Card – Irene Neuman
1st place – $1,000 Cash – Amy Lussier
Grab your ticket(s) today for a chance to win great prizes all while helping OFOSA save more animals — it's our Christmas in July Raffle!
First Prize = $1,000 CASH
Second Prize is $500 in GAS
Third Prize is $250 Wal-Mart Gift Card
Tickets sold are limited to just 500 at $20 each. Increase your odds of winning when you buy multiple tickets.
If you are 18 years old or older and are currently in the state of Oregon, you can buy your raffle tickets online through 7/31/22 at 11:59pm.


If you are not in Oregon, please wait to purchase your ticket(s) until you are in Oregon.
And The Winner Is…
The winning tickets will be randomly drawn on Monday, August 1st, at 2:00 pm via Live Feed on OFOSA's Facebook page at our offices at 1853 NE Cornell Rd., Unit C, Hillsboro, OR. Third prize will be drawn first, Second prize will be drawn next, and then First prize. Winners will also be posted on our website. You do not need to be present to win.
Raffle tickets are available to purchase now through July 31st at 11:59pm. Proceeds go toward saving more homeless adoptable animals, restoring them to health, and finding them forever, loving homes! Thank You!
If you have any questions or problems with purchasing tickets, please call 503-707-5177.
Click HERE for Official Rules