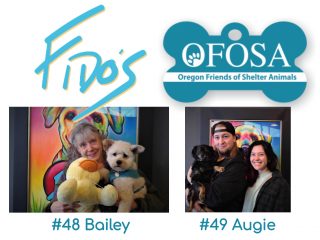 We are currently not housing  dogs at Fido's Tap House due to COVID-19. If you are interested in adopting, please click here.
Fido's is the creator of the new business segment…"Dog Tap House". Fido's and their partners are dedicated to the welfare of dogs.The synergistic relationships, "compound" the help shelter dogs desperately need. They actively support charities and celebrate "Man's Best Friend" in all they do. They aim to change how businesses support dog charities. Visit Fido's to Eat, Drink & Adopt!
You can visit Fido's, grab one of their 40 beers/ciders/wines on tap, some tasty food, and visit with OFOSA's adoptable dogs* in the Doggie Day Room for a small fee. If you find a pup you simply can't live without, you can ask to fill out an Adoption Application!  OFOSA is responsible for all adoption-related activities.
Fido's donates a percentage of their proceeds to OFOSA along with other dog welfare non-profit organizations!  Eat – Drink – Adopt!
Check out the video for an awesome visual recap of Scott & Vee's first 6 months in business!  They're helping rescue dogs EVERY day!  Check it out!
*Based on availability and adoption application approval