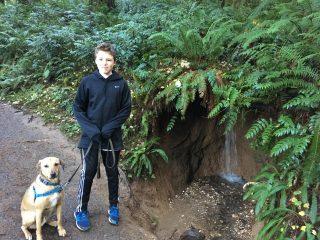 Caleb and his dog, Henry
On September 1st, 2018, Caleb Andreyuk will become a Bar Mitzvah, which is one of the most fundamental rituals of the Jewish faith.  As part of this coming of age event, Caleb has chosen to participate in a tzedakah, or charity project. A lifelong animal lover, Caleb really wanted to focus his project on animals.
This past December, Caleb and his family spent 5 days volunteering in Costa Rica at an animal rescue center, helping with sloths, monkeys, birds, and a variety of other unique animals. In addition to cleaning their cages and feeding them, Caleb took it upon himself to make special toys for the animals, including a hammock for cute little Evo, the marmoset! He also made signs for their cages, and even helped to create an addition to increase the size of the cage for one of his favorite animals, Petunia the Coati.
Caleb's all-time favorite animal is his dog, Henry. Caleb helped to choose Henry as the family pet two years ago from the Oregon Friends of Shelter Animals (OFOSA). For his Mitzvah Project, Caleb is planning to volunteer his time for OFOSA this summer, and will be baking dog treats to help raise money for this wonderful organization.
Donations in honor of Caleb's hard work and dedication to animals can be made to OFOSA to help rescue and rehome cats and dogs. Click HERE to make a donation in honor of Caleb's Bar Mitzvah and be sure to click on his fund in the donation box.  Thank you for your support!
Caleb and the hammock he made for Evo